By Doris He |
07
April 2023 |
1
Comments
The Benefits of Having an LTE Wifi Router
An LTE WiFi Router is a great way to share the internet connection with other devices in your home. It also makes it easy to set up an entire network for all your devices simultaneously.
Part I. What is LTE WiFi Router?

LTE WiFi Routers that use LTE cellular network satellite service to connect to the Internet. As such, they do not need to be plugged into a cable modem. What these modems lack in overall browsing speed, they more than make up for with portability and convenience. In several ways, an LTE router, otherwise known as a MiFi router or a 4G router, is similar to a gateway, if you are wondering about the differences between a router and a gateway.
Part II. Top 5 benefits of having an LTE WiFi Router Benefits
1. Connect Multiple Devices at Once.
You can use an LTE WiFi Router to share the internet connection between multiple devices. This means that you can use your laptop, tablet, smartphone, and even smart TVs to access the internet at the same time.
2. Save Money by Not Paying for Data Plans.
If you're looking to save money on data plans, then you should consider getting an LTE WiFi Router instead of paying for separate data plans for each device. With an LTE WiFi Router, you can share the internet connection with other devices without having to pay extra fees.
3. Enjoy Free Internet Access Anywhere.
You can enjoy free internet access anywhere with an LTE WiFi Router. This means that you can use your smartphone, tablet, laptop, or any other device to surf the web at no cost.
4. Stay Informed with Push Notification Alerts.
If you are looking for a new Router, you should consider getting one with push notification alerts. These alerts will notify you when there is a problem with your Router so that you can fix it right away.
5. Control Your Home Network from Anywhere.
You can control your home network from anywhere with an LTE WiFi Router. You can also use your smartphone to check your Router status, view your connection speed, and even set up your Wi-Fi settings.
Part III. Application of the LTE WiFi Router
The IoT application of LTE CPE Router IoT applications varies from power distribution automation, CNC device tools, thermal metering improvement, elevators, and also other huge equipment remote tracking in the industrial field to the self-service incurable networking, multimedia promoting the remote launch, and also parking guidance in the commercial area. It can also be seen in everyday life as the application of public bike systems, WiFi buses, water resource surveillance, etc.
As one of the world's leading specialist producers in xPON items as well as CPE, V-SOL, and Smilembb formally offered a high-performance interior 4G LTE WiFi Router (XRC5241).
Access to Internet Anytime and Anywhere
Full Coverage from 4G to WiFi: Without FTTH or DSL to Home, one 4G SIM card can realize multiple devices to access the network, realize Wi-Fi full coverage, and Ethernet access.
The CPE device adopts a smart performance chipset and the speed reaches up to 150Mbps.
VPN Protocol: IPSec VPN, PPTP VPN & L2TP VPN
Usage scenario: Indoor, Home, office, etc.
Plug and Play: Plug in SIM Card to access the internet directly, simple and convenient.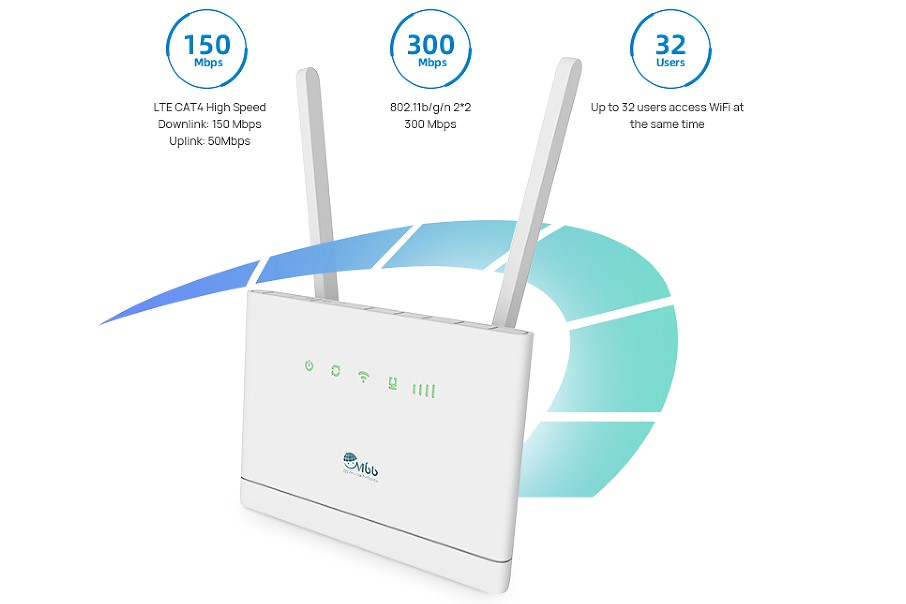 Besides the indoor CPE, there is outdoor CPE XKC7243 that can be set up outside with waterproof, shock-resistant, and lightning-protection characteristics.
3GPP R10/11 CAT6
IP65 is waterproof, shock-resistant and lightning-protection
Flexible installation: wall and pole mounted.
PoE Power Supply
Adopting 4×4 MIMO
Usage scenario: Outdoor, Home, office, etc.
LTE Speed: TDD DL 220Mbps/UL 15Mbps (Config 2:7) FDD DL 300Mbps/UL 75Mbps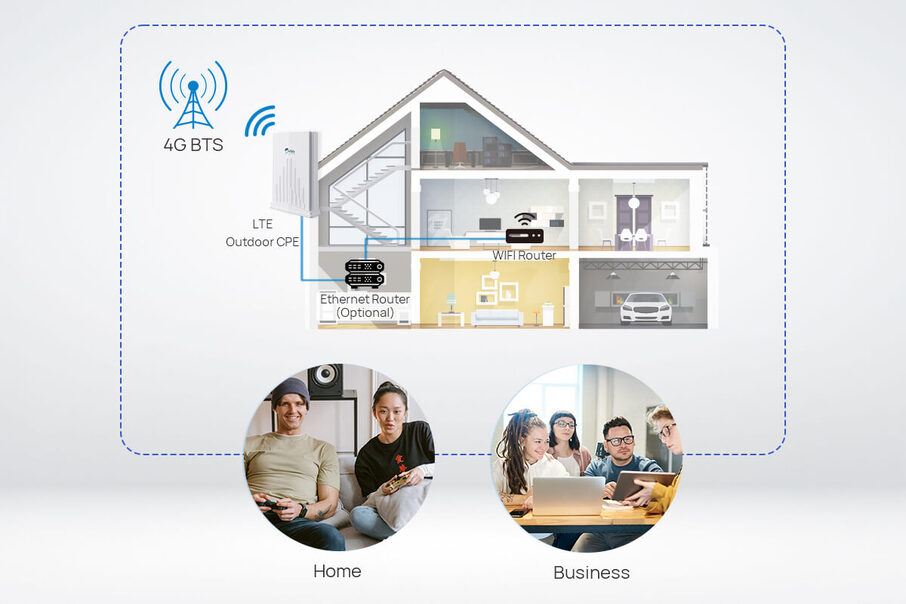 Current Marketing Positioning:
The monthly production capacity reaches 800K and the quantity of LTE WiFi Router is 100K per month.
The current market target is operators, distributors, WISPs, and ISPs.
Support OEM&ODM service.
V-SOL and SmileMbb are looking for brand agents and now there are more than 32 brand agents around the world.
Both indoor and outdoor 4G CPE make a difference in the access network. With the 4G LTE CPE Router, users can enjoy fluent Internet service anytime and anywhere! If you are interested in exploring the field and market of CPE, If you are interested in CPE, you can learn more on the SmileMbb 4G CPE Router pages.
You maybe interested:
Leave a Reply
Your email address will not be published.Required fields are marked. *